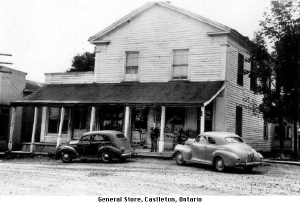 Communities

---
These pictures are from McKague, Saskatchewan and from some of the communities near us in Northumberland County. Some are current and some are historical. In some cases, it is difficult to tell the difference as life seems to move very slowly in the country. Almost all the buildings and landmarks are still visible today.
If you have pictures of a community that is historically important to our family, please share them with us.
You can get back to this page from any community by using the "Back" button on your browser.
---

McKague, Saskatchewan

---

Castleton, Ontario



Cobourg, Ontario



Colborne, Ontario



Longview Farms



Warkworth, Ontario



Other Northumberland County Communities


---

Back to main photographs page
---
mckague.com
Search our Site
Our Genealogy Page
Our Photographs
Links
Pure Gold
Guestbook
Credits
---